Seward Park, Rainier Valley
Camp Times: 6:00am, 6:15am, 7:15am, OR 7:30am
Spring – Summer – Fall Program Location: SEWARD PARK
Winter Program Locations: Camp runs out of our indoor locations starting halfway thru the Oct 21 session on Nov 4! Please note that we still go outside often after warming up and when the weather is cooperative.
6:00 am and 7:15 am with Trainer Gina at Lakewood-Seward Park Community Club 4916 S Angeline St, Seattle, WA 98118
6:15 am and 7:30 am with Trainer Stephanie at Mount Baker Community Club 2811 Mount Rainier Dr S, Seattle, WA 98144

View Seward Park Booty Camp in a larger map
Taught by Gina Kurtz (6am, 7:15am):
Gina is a teacher, Self Defense Instructor, and Business Director for Seven Star Women's Kung Fu, a non-profit women's martial arts school located in Seattle's Central District.  Gina has been teaching Kajukenbo (Seven Star's martial arts style) and self defense since 2006, and has been training in Kajukenbo for 9 ½ years.  She recently earned the rank of black belt in June 2013.
Gina has been a practicing personal trainer since December 2011.
  She received her personal trainer certification through W.I.T.S. (World Instructor Training Schools) and interned at both the University Family YMCA and Meredith Matthews YMCA in 2012.  Gina's goal in teaching and training is to help individuals find strength, confidence, health, and joy through physical activity.  Physical fitness has been transformative in Gina's life—a way to manage mental and emotional health, in addition to the wellness benefits of exercise and physical activity.  Her focus is to make physical activity fun and accessible.  Gina's emphasis is on posture and alignment, building core strength, clarity of movement/techniques, and identifying modifications for a diversity of ages and body types.
Gina lives a few blocks from Seward Park, with her husband Roger, son Lincoln, and dog Roo.  When she's not practicing kung fu or exercising in the park, she enjoys gardening, crafting, exploring the City, tidepooling, and picnicking.
Taught by Stephanie Levine (6:15am, 7:30am):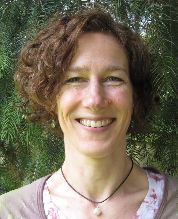 Stephanie was born and raised in Vancouver Canada, and from a young age pursued a wide range of activities from gymnastics, skiing, soccer and lots of outdoor play, horseback riding and biking. At 15, Stephanie focused her passion to train for Modern Pentathlon (a sport including running, riding, swimming, shooting and fencing!) and was a member of the Canadian National team for many years and competed at 5 World Championships.
In 1988 Stephanie completed Massage Therapy training, and spent several years working with competitive swimmers, cyclist and triathletes. Stephanie, her husband and their two sons now live in Seattle, where she has a thriving massage practice at Bodyworks in Columbia City. Over the past several years Stephanie has returned to her own fitness path with a dedicated yoga practice and regular running.
Now certified as a personal trainer, Stephanie is thrilled to be a member of the Booty Camp team!