Lincoln Park, West Seattle

UPDATE: We will start up the 6am class again in the spring on March 26th, 2012!
Camp Start Times: 6:00 am OR 7:15 am
PLEASE NOTE WEST SEATTLE CURRENTLY RUNS MONDAYS AND WEDNESDAYS ONLY.
Spring – Summer – Fall Program Location: Lincoln Park
Winter Program Location: Seattle Civic Dance Center 9131 California Ave SW, Seattle, WA 98136

View Lincoln Park Booty Camp in a larger map
Taught by Melissa Magdsick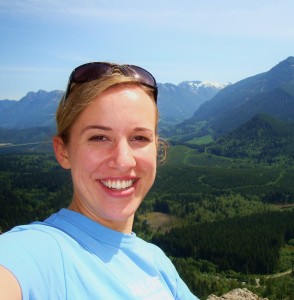 Born in Vermont but raised in Minnesota, Melissa was introduced to activity and sports from as early as she can remember. She played soccer for twelve years, and basketball for three years. In high school, she decided to take a weight-training class as an elective and fell in love with her new-found hobby, often spending Friday nights at the gym or running through a park. One of the things she loved was knowing that her body could become stronger and more agile than it had been before. Using as much of the nicer Minnesota weather as she could, summers were spent swimming and jogging in the early morning, and the winters were focused on building strength and maintaining a cardio base while snowboarding on the weekends.
Melissa graduated from the University of Minnesota with a B.S. in Kinesiology with an exercise science emphasis in 2006. Certified by the National Academy of Sports Medicine, she then worked as a personal trainer and metabolic specialist for the next four years. She trained a wide variety of clientele, but has a keen interest in holistic health, nutrition and metabolism, weight loss, and corrective exercise. She absolutely loves to learn how the body works, and with that knowledge, how to care for it well in order to enjoy life to its fullest. Because every human body is different, she believes in acknowledging those differences while helping guide others towards a healthy way of life that is achievable, works with their daily demands, and helps improve their quality of life.
Melissa moved to West Seattle in August 2010, and feels she was made for this climate. Her exercise has moved from indoors to outdoors, with hikes every other weekend, running by the Puget Sound, and strength training in her garage. She and her husband live about 5 minutes from Lincoln Park, and are currently training to summit Mt. Rainier next summer. In their spare time, they enjoy photography, cycling around new areas of Seattle, cooking new recipes together, and occasionally pulling out the hammock for a relaxing Sunday afternoon. She is excited to be part of the Southside Booty Camp team!